In corporate media there is something know as "the buying mood." It essentially refers to news media's creation of a state that inspires readers, listeners, and viewers to buy products. It's unsurprising that such a thing exists, considering that
80% of revenues for newspapers come from ads
(James Winter, Lies the Media Tells Us). Newspapers, thus, walk the line between working for corporations and providing the public with fair and objective news. Television news stations also
negotiate the line between reeling in viewers for their corporate sponsers and disseminating the news
. Even the CBC, formerly publicly funded, is
turning towards more private sponsorship
.
One of the stipulations of "the buying mood" is that the
content of the news shouldn't overshadow the products for sale
on the next page or in the upcoming commercials. For example, in 1996 Chysler Corporation's ad agency, PentaCom, sent out a contract to 50 magazines with the following clause:
"In an effort to avoid potential conflicts, it is required that Chrysler Corporation be alerted in advance of any and all editorial content that encompasses sexual, political, social issues or any editorial that might be construed as provactive or offensive."

Essentially, that means if your magazine plans on running anything Chrysler doesn't agree with, they'll pull their ads and their money. Now, I don't necessarily blame Chrysler for this, that's their business perogative, nor do I blame magazines who go along with it, because that is their's. But we are fools if we think that news media can provide objective and hard-hitting news while at the same time pandering to their corporate sponsors.
According to
Sut Jhally
, commercials work by issuing an emotional appeal to potential buyers. Hence, it makes sense that corporations would want to
limit the amount of emotional appeal news content has
, so that ads can stand out by comparison. Of course, there are many other reasons why our corporate news stays relatively unemotional, but we'll talk about those in later posts.
This brings me to the real point of this post: Israel and Gaza. I have noticed that whenever I turn on the TV, I get the same non-specific turns of phrase, the same pictures, the same neatly processed and cleaned up stories. "The buying mood," makes it impossible to show any images that actually capture the intense conflict going on.
The following images are very difficult to look at. But I think they are
very important
pictures to look at because they represent the truth of what's going on in Israel and Gaza. You won't see them on the evening news. They have been collected and captioned by
The Big Picture
.
Mahmoud Tark, an nine-year-old injured Palestinian boy, is transported by Red Crescent officials on an ambulance at the Rafah border crossing between Egypt and the Gaza Strip to a hospital in Al-Arish December 30, 2008. Palestinians wounded in the Israeli attack on Gaza trickled into Egypt on Monday after a day and a half of confusion and disagreement between the Hamas and the Egyptian government. (REUTERS/Amr Dalsh (EGYPT)
Samera Baalusha (34) (right) sits with her daughter Eman (15) and surviving son Mohamad (15 months) while waiting to see the body of her 4-year-old daughter Jawaher Baalusha during the funeral held for Jawher and her four other sisters who were all killed in an Israeli missile strike, on December 29, 2008 in the Jebaliya refugee camp, in the northern Gaza Strip. Jawher Baalusha and her sisters were killed during an Israeli air raid while they were sleeping together in their bedroom. Medics stated that the raid had targeted a mosque near their home in Jabalia. (Abid Katib/Getty Images)
Many bodies lie outside the Hamas police headquarters following an Israeli air strike in Gaza City on December 27, 2008. (MOHAMMED ABED/AFP/Getty Images)
A wounded Palestinian girl is carried into the Al-Shifa hospital on December 28, 2008 in Gaza City, Gaza. (Abid Katib/Getty Images)
A medic crouches over the body of an Israeli man after he was killed in a rocket attack launched from the Gaza Strip and hit the southern Israeli town of Netivot on December 27, 2008 following Israeli bombardment on the Palestinian costal strip. The rocket attack killed one man and wounded four others, according to the Magen David Adom, Israel's equivalent of the Red Cross. (HAIM HORENSTEIN/AFP/Getty Images)
The body of a Palestinian security force officer lays in the rubble after an Israeli missile strike on a building in Gaza City, Sunday, Dec. 28, 2008. (AP Photo/Fadi Adwan)
A wounded child awaits medical attention at the Shifa hospital on December 27, 2008 in Gaza City, Gaza. (Abid Katib/Getty Images)
Wounded Palestinians are treated on the floor of crowded Kamal Edwan hospital in Beit Lahia in the northern Gaza Strip on December 29, 2008, following an Israeli air strike on the nearby Jabalia refugee camp. Israeli tanks massed at the Gaza border today as warplanes continued pounding Hamas targets in the densely populated enclave. (MOHAMMED ABED/AFP/Getty Images)
Masked Palestinian militants from Islamic Jihad run with homemade rockets to put in place before later firing them into Israel on the outskirts of Gaza City, Saturday, Dec. 20, 2008. (AP Photo/Ashraf Amra)
Palestinian firefighters try to extinguish flames at a medical warehouse after an Israeli airstrike targeted at a fuel tank nearby in the southern Gaza Strip town of Rafah on Sunday, Dec. 28, 2008. Israel widened its deadliest-ever air offensive against Gaza's Hamas rulers Sunday, pounding Hamas targets, smugglers' tunnels and a central prison. (AP Photo/Xinhua)
An Israeli police officer kneels over a dog that was badly injured after a rocket landed in the southern town of Sderot, Israel on December 30, 2008. (GIL COHEN MAGEN/Reuters)
Palestinian men bury the body of 4-year-old Lama Hamdan at Beit Hanoun cemetery in the northern Gaza Strip December 30, 2008. Lama and her sister were reportedly riding a donkey cart Tuesday near a rocket-launching site that was targeted by Israel. (MOHAMMED SALEM/Reuters)
My point in posting these images is to remind us that what we see when we sit down in front of the television at night isn't what's going on.
TV news isn't the news
.
Here's an interesting story. The BBC recently
refused to air
a video (available
here
) created by the
Disasters Emergency Commitee
, DEC, about the need for humanitarian aid in Gaza. The clip opens by stating that it is
not about the rights and wrongs of the conflict
, but rather about the fact that there are human beings and children in Gaza who are in desperate need of aid. Mark Thompson, the BBC Director General (who in 2005
travelled to Israel to hold a personal meeting with Ariel Sharon
, and is reported as having "a far greater regard for the Israeli cause than some of his predecessors"),
stated
: "We do want to cover the humanitarian story, we want to cover it in our news programmes where we can put it in context, we can do it in an even, carefully balanced, objective way. We worry about being seen to endorse something which could give people the impression that we were backing one side."
However, I think we get a better glimpse of the truth from Andy Burham, the cultural secretary, who said it was a difficult decision for the BBC "
because of the way it is funded
."
Is the BBC really fufilling the role as a provider of news by refusing to air very important information on how to donate to DEC? Are they really giving their viewers all the information? Who are they choosing:
the public or their corporate sponsers
? Are there, perhaps, some personal biases getting in the way of the news? Is the buying mood affecting what they choose to air? Again, it is their business perogative to do as they do, but it certainly doesn't make for what they claim they are trying to achieve: objectivity.
Now, the focus of this article has been more about media, and some limited reactions to one conflict, but I think the lack of images, the pick-and-choose stories, the dull stories given by professionally unemotive faces, say something really huge about corporate media. You've got to ask yourself: why I am I seeing what I'm seeing? Why not show the real pictures, why not tell me what really happened today, why not give me some information on humanitarian aid? Do I really want to get my news from people whose JOB IT IS to worried about a corporation's bottom line?
More information on Israel and Gaza (from some sources that are perhaps less biased) is available from many of the media links in the sidebar.
Hopefully, I'll blog in more depth on the topic at a later time, but I feel like this post is already starting to go in a few too many directs, so I'll stop here for now.
Labels: gaza, israel, media, the buying mood
posted by Ashley Girty @ 11:36 AM, ,

This is a post for those of you who eat, who occasionally expend capital, and who spend a couple days a week in the physical world. I imagine that's most of you.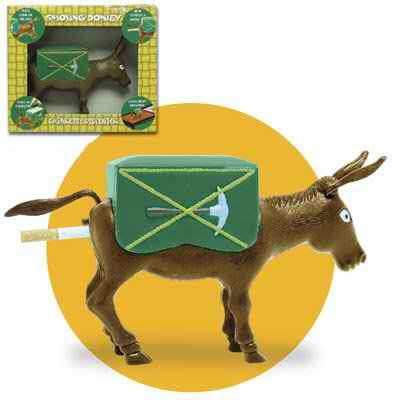 I'd like you to take a moment and consider all the stuff you've owned in your lifetime. All the Christmas presents you've loved and lost, late night burrito wrappers you cast aside, those childhood toys you grew out of, that
donkey cigarette dispenser
you didn't really need, the quesadilla maker you never did learn how to use but got on sale for $9.99. From whence did they come? Thither did they go?
Over 4 million have watched as Annie Leonard explains the wacky system we call "the materials economy," or where all our stuff comes from and where it goes when we're done with it. Her 20 minute web-documentary, "
The Story of Stuff
," looks at our current linear system of extraction, production, distribution, consumption, and disposal, and offers us some environmentally friendly alternatives. I watched it and thought it provided a very eye-opening 20 minutes and represented a solid backbone on which to assemble an understanding of the materials economy. Here's a brief sampling of facts covered by Leonard:
We're running a linear system of production on a finite planet; the system is, hence, unsustainable.
America accounts for 5% of the world's population, but uses 30% of its resources and creates 30% of its waste.
80% of the worlds original forests are gone.
Human breast milk is the food at the top of the food chain with the highest levels of many toxic chemicals.

Only

1% of materials that flow through the mater

ials economy in North America are still in use 6 months later! 99% are trashed!
If this sounds like the kind of thing you'd like to learn more about, then here's Leonard's video in all it's cartoon-y, but still academic, glory:
(A slightly cleaner version is available at www.thestoryofstuff.com, but alas, I cannot embed it, so you'll have to head over there if you want an optimal viewi
ng experience.)
Of course, a documentary covering such a vast amount of information in 20 minutes is bound to present some points of contention. Andy Brain of
www.andybrain.com
made a
post
that I think has some fair criticisms of Leonard and I would recommend reading both his text and the comments that ensued for a fuller understanding of some of t
he ideas being discussed.
All in all, a good, if incomplete, introduction to what's your stuff's been up to and what it gets up to before and after your time with it.
posted by Ashley Girty @ 4:58 PM, ,

So, I've decided to embrace irony and peddle a product on blog that claims to be against sell-you-shit news. Moreover, I've decided that, what the hey, I'm alright with turning a little pink when I'm sitting in class and some of y'all are critiquing this blog post. Don't try to stop me, because here I go, unabashedly making all of our lives slightly more awkward than they need to be. Modest madams need read no further. For you women of brave heart, for you dames dedicated to living green, come with me as I tell of a product that could change your life. Or at least the way you menstruate.
Now, I'm blogging on this product because I've actually never seen it advertised in a mainstream ad. Moreover, in all the time I've been watching news segments on how to make your life greener, this one's never come up. Here's the story.
Last year I was taking a women's studies course and somehow or other the prof brought up the topic of the menstrual cup. "What do you mean, MENSTRUAL CUP? Like, is that A JAR you MENSTRUATE into?!" was the general cry of horror. "Well, no. Not exactly. More like a rubber... tampon. Is that weird? That's not weird, is it?" the prof questioned us at large.
On a scale of one to weird, the general consensus was that it was slightly weirder than raising alpacas in your basement, but no weirder than, say, a three-headed chicken. The girls in the class were mostly shocked by how immodest one would have to be to insert one of these things, to empty it, to have the hudzpah to walk around with it up in there. The discussion changed tracks fairly quickly -- no one would own to using one, or even express an opinion beyond "ew, gross!" and I realized that, for some reason, we have this idea that the tampon and the pad are modest, acceptable, and lady-like, while the cup is not. I had to ask myself: why?
From a purely logical standpoint, the distinction doesn't make a lot of sense. Essentially, there's not a heck of a lot of difference between the tampon and the cup. To put it somewhat bluntly, they both go in the same place, collect the same thing, and, eventually, have to come out the same way. And yet we'll head to the store every month for one, but we won't even consider the use of the other.
If I had to guess, I'd say that this has an awful lot to do with marketing and commercials. Most of the major manufacturers such as Kotex, O.B., Playtex (who in the 1960s had a contract with NASA to manufacture
space suits
), and Tampax don't manufacture them. You might be thinking "well, if they don't manufacture them, there's probably a good reason for it!" And your right, there is: they don't generate much profit.
Let's do a little math. Every period, the average woman uses about
20 tampons
. Let's say you're a fan of, oh, the
Tampax Pearl Plastic Multipax
: $9.59 CAD for 36 tampons. That's $9.59 x 8 packs a year x about 43 years. Congradulations, you've just made a lifetime investment of $3311 in the Tampax Pearl! And that's before tax.
On the other hand, you can order a menstrual cup, such
The Diva Cup
, currently the only menstrual cup that's approved for sale in Canada, for $35 USD. The things last for about 10 years, though recently Diva Cup has altered the "recommended lifespan" of the cup to 1 year. (The main motivation in the recent lifespan alteration was profit, you can read all about it
here
-- not that I'm necessarily hip to keeping it around into the double digits, but hey, make your own choices.) The point is, even if you follow their advice exactly, you're spending a minimum of $41 less annually.
But, aside from your wallet, let's not forget the implications for the environment. Every year in the US an average
12 billion pads and 7 billion tampons
are disposed of. 19 BILLION pieces of garbage! These pads and tampons contain surfacants, adhesives, additives and dioxin, none of which are great for the environment. Think of all that waste. Comparatively, you could be disposing of a container no bigger than a pudding cup once every few years.
Of course, there's more to the relative dis-use of the cup than advertising. Sure, the menstrual cup doesn't get hyped much in the media, but it's not like the thing doesn't has a completely glam past either. Looking at the history of the cup I found the following images, which I share because they're both historical and hilarious.
Admittedly, you'd be hard-pressed to find a gal willing to subject herself to any of the contraptions pictured; most of them look more like pre-historic torture devices than anything else. But the cup has come a long way since
Leona Chalmers patented the first one in 1937
. The modern one is even sort of cute.
So here it is.
The Pros
:
Better for your body than pads/tampons, which contain chemicals (hence a reduced risk of Toxic Shock Syndrome)

Great for swimming, sports, etc.
Enviro-friendly
A cheaper alternative
No more "oh crap, did I buy..."

The Cons
:
Potentially messy/painful if used incorrectly (this usually resolves itself with a little practice)

Requires you to be fairly comfortable with your lady bits
The Diva Cup isn't for everyone, but it's a great money-saving green alternative to some of the more commonly used solutions. And it's not arcane or unfeminine. You can find a detailed
FAQ
on the Diva Cup's website and a
fun history of the menstrual cup
at Mum.org. In Windsor, the Diva Cup is available at Nutrition House, locations at Devonshire Mall and 7650 Tecumseh Rd East, as well as at Pure Nature, location at 25 Amy Croft Dr.
So, there you have it. A green alternative you probably haven't heard much about.
End awkwardness.
Labels: green
posted by Ashley Girty @ 5:09 PM, ,

Perhaps it's a sign of maturity that on Christmas morning I slept well past 11 o'clock and today, the day of President Obama's inauguration, I was in the living room by 8:30 flipping over news stations and anxiously sipping my morning coffee. Although, my alacrity in watching the inauguration doesn't mean I'm buying into the mythic portrayal of Barack Obama quite yet. Don't get me wrong, at the very least America is looking for change. That's been the theme of Obama and his supporters over the course of this campaign -- though I still maintain that if change is what they're looking for all they have to do is drop by the National Treasury... it's just about all that's left there, har har. But I kid. Sort of.
I don't mean to take away from the fact that today the American people did witness a monumental event; they stood and cheered as a black man swore in as president on a spot that was, ironically,
built on the backs of slaves
. This is after some 200 years of electing white men to office. I don't even need to say that that's a great move toward inclusivity and plurality.
But I'd like to step back for a minute. Yes, years after the civil rights movement America's finally decided to elect a president with black skin. Yes, after an issue comes into public consciousness and stays there for a century or so, eventually we do something about it. Pats on the back, all around. But what about the issues that are a little less apparent?
With Barack comes new budget director Peter Orszag. Prior to the inauguration Orszag directed the Congressional Budget Office, where he concentrated "particularly on the unaffordable costs that taxpayers face in
Medicare
,
Medicaid
and other health programs," according to a New York Times
article
. Wait, what? Medicare?
Sure, in the 2007 fiscal year, Medicare spending accounted for a big chunk of change, one in which I'm sure valid reforms could be made. But, between the
money allocated
to the Department of Defense and the War on Terror, the US spent "$474 billion in FY 2006, which is 56% of net discretionary spending, $505 billion in FY 2007, and $554 billion in FY 2008, or nearly 60% of discretionary spending" on the Military. (Copies of the Budget of the United States Government since the 1996 FY are available
here
for those interested.) More than half of the country's discretionary spending is going towards war and Obama goes with a budget director that's looking for ways to reform healthcare spending?
Listening to the inauguration speech today, I got chills when Obama stated that "[w]e will not apologize for our way of life nor will we waver in its defense." Is it just me, or does that sound a little too much like the old
Manifest Destiny
tripe for 2009? And then I'll admit that I was a little confused when he said that the American forefathers "understood that our power alone cannot protect us, nor does it entitle us to do as we please." Sorry, we are talking about America, right? Land of the
Monroe Doctrine
?
I guess what I'm interested in when it comes to Obama's presidency is how his foreign policy works itself out. In "
Addicted to War: Why the U.S. Can't Kick Militarism
" (which can be read online in it's entirety
here
) Joel Andreas investigates America's legacy as a war machine. At the beginning of the campaign, I wondered if perhaps this legacy would begin its decline under Obama, though this does not seem to be the case considering the official Obama/Biden policy that states: "Obama and Biden will secure all loose nuclear materials in the world within four years. While working to secure existing stockpiles of nuclear material, Obama and Biden will negotiate a verifiable global ban on the production of new nuclear weapons material." (The rest of the official Obama/Biden agenda is available online
here
.) Don't get me wrong, I'm all for a world without nuclear weaponry, but I'm pretty sure what's being aimed for isn't a planet rid of nuclear weaponry, but a planet where
America
controls all the nuclear weaponry.
Yes, on the one hand, it's great to see a nation so united. It's great to see a man who isn't George Bush take the reigns next door,
even if he did gaffe a little on the presidential oath.
(edit: turns out the guy giving the oath gaffed and Obama un-gaffed; colour me slightly more impressed!)
It's great that America finally has a black president. And it's great that so many people have faith that this man can change their country for the better, and who knows, maybe he'll deliver. But, on the other hand, shouldn't we be concerned about a system where 50+% of discretionary spending goes towards war?
And shouldn't we be concerned when a new president walks into such a system with a budget director who's going to try to trim the fat in
medicare
? Just a thought.
Labels: andreas, militarism, obama
posted by Ashley Girty @ 12:02 PM, ,

In Fall '08 I was flipping through the University of Windsor's course calendar looking for a class that would require zero thought, zero effort, and zero studying, with a potential for poor class attendance. I say that not because I'm a lazy arse – I promise you, if anything, I tend towards the hyper-active when it comes to studying – but rather because I had an already over-burdened course load and didn't want to find myself in the same situation I had found myself in for the past 3 years; suicidal and in a paper-filled room worthy of John Nash over the two weeks before exams.

There, tucked between Video Production I and Cinema History, I found it, my beacon of slackery goodness: Media Literacy. "I watch the news! Sometimes I don't fast-forward through the commercials when I tape things! How can I go wrong?"

So, I went to the first class. I got the syllabus. The prof, Dr. Winter, talked about the CIA and Cuba and why the fluoride in the municipal water was going to kill us all – if it didn't retard us first. I thought he was probably the kind of guy who went home at night and sat next to a ham radio wearing a tinfoil hat. I decided to attend the second class only because I happened to be on campus and couldn't resist the unlimited potential for unintentional comedy.

But when I left the second class, I wasn't laughing. I was actually angry. He made the point that 80% of a most newspaper's revenues come from advertisements. He made the point that, given the revenue breakdown, it's clear that newspapers sell audiences to advertiser's, not advertiser's to audiences. He said that, in Canada, the news is controlled by a handful of wealthy families who represent their own biases and agendas in their papers. And he said this was wrong.

I was, and still am, of a slightly different opinion.

Sure, the facts of what he's saying are true. 80% of rev comes from ads, audiences are sold to advertisers, rich old bastards control everything. We can find supporting evidence for all of that. But I wouldn't say that this is "wrong." I still maintain that it's not anyone's job to provide us with the news, with the truth, with any information that's against their own better interests.

I would say that if we want the news it's our responsibility to pursue it, to disseminate it, to talk about it, to analyse it. Don't change them. Change us. Hence, this blog.

As an aside, Media Lit ended up being the hardest class of the semester and in the two weeks before exams I went from John Nash's papering-the-walls-crazy to full on Howard Hughes nuts. However, I got through it and I have a better appreciation of Dr. Winter's work than I had when I walked out of those first couple classes. I see more errors, biases, and governmental cheerleading chants in the news than I did before. I find commercials infinitely fascinating. I note the language and turns of phrase when someone's reporting, where before I just listened. I strive to be aware of what's missing. I watch movies for both the apparent story plotlines and also the more ostensible social ones.

Why did I tell you all this? Well, first, I want to recommend two of James Winter's books: Mediathink and Lies the Media Tells Us, which are great jumping off points for learning more about corporate media in Canada. I especially recommend the latter, despite the price. (Moreover, if any Windsorite out there wants to borrow my copy, I've always been hip to the book-exchange, so let me know). Secondly, I thought I ought to acknowledge Dr. Winter as a big influence in my becoming critically-minded about the media. Finally, for those of you who have taken the course and know Dr. Winter's opinions, or have read his work, and perhaps sensed his influence in the blog, I also wanted to define myself against him and admit my own biases.

Namely, there are two. I am 1) pretty much a libertarian (an oft misunderstood political stance that I will talk about in more depth later) and 2) the kind of feminist that would make James Winter shake head in dismay; i.e. I think women are, essentially, men with boobs. I'm pretty ardent about it.

So there you have it. The story, the vision, the blogger, and probably the most letter-like post I plan on making. I'm looking forward to talking media with whoever happens to read this, and will hopefully provide some alternative insight into the stories, reports, ads and images we're steeped in everyday.

Cheers,
Ashley
Labels: intro, james winter
posted by Ashley Girty @ 7:22 PM, ,